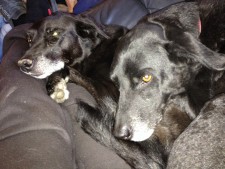 East Cliff Cottage is a pet friendly hotel.
We welcome your own well-behaved four-legged friends who may sleep in your room and sit in the lounge. We do request that they are kept out of the dining room. There is a small additional charge to cover cleaning of £5 per night.
If you do not have a dog of your own, ours will welcome any extra fuss coming their way, although they are normally kept in the private quarters of the hotel.
Dog Friendly Beaches
Dogs are allowed anywhere on the beach during the winter and in designated areas during the summer months. The nearest dog friendly beaches are about 10 minutes away by car and a 40 minute walk.
There is a map of the seafront on The Beach page.